COMPANY PROFILE
Welcome to Our Homepage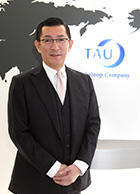 Thanks to all the customers from many countries who have offered their strong support and ongoing relationship with TAU corporation. TAU has been implementing the most advanced business management since the establishment in 1996 which realized TAU is one of the largest companies dealing with damaged vehicles to all over the world. Today those new products as spare parts and industrial machineries have also been welcomed. We will keep our best efforts to provide you with the extra profit opportunities.
We have a strong confidence that we can keep a long stable and excellent
business relationship with you through our website.
We like you are looking forward to continuing this wonderful and mutually
beneficial relationship into the future.
Kindest Regards
Akitaka Miyamoto
CEO
TAU Corporation
| | |
| --- | --- |
| Company name | TAU Corporation |
| Started | August 1996 |
| Capital | 100 million yen |
| Head office | Saitama Japan |
| CEO | Akitaka Miyamoto |
| No. of Employees | 447 persons (as of September 2022) consolidated |
| Sales amount | 31.9 billion yen (fiscal year ending September 2022) consolidated |